Three approaches to Hot Tub water care
The choices you make in maintaining your hot tub include considerations around convenience, the amount you use your tub and the results you want to achieve. Sunshine carries a variety of Hot Tub maintenance chemicals to meet any tub owner's needs.
---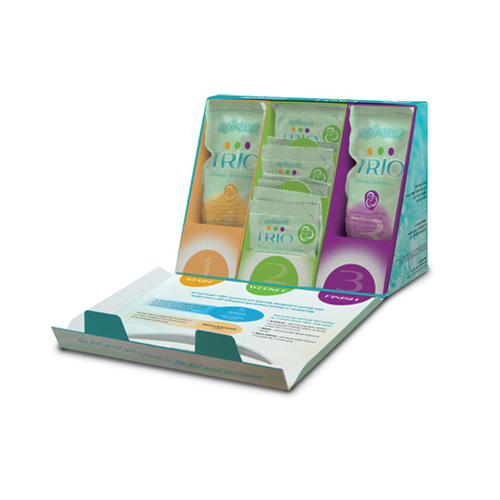 Soft Soak Trio
If you are looking for simplicity, the Softsoak trio system is the kit that allows you to simply manage your water quality and perform regular spa maintenance – the stress free way to ensure great water quality with no measuring. The kit contains three products – all you need for three months is all you need. The three components are:
Enhanced water softener creating a level of softness that lasts for the entire three-month cycle.
The Weekly Water Softener & Clarifier bag is added at fill-up and once a week for three months to maintain clarity and gain some "extra" softness.
The Restoring Spa Cleanser removes built-up grime (lotion, body oil, make-up, hair-care products, dirt and debris) and completes the Soft Soak® TRIO™ cycle. The cleanser is added to the tub when you are ready to flush the system.
This product is compatible with chlorine, bromine, ozone, salt, minerals and uv systems. Note: pH and anti-bacterial balancing are not a part of this kit
---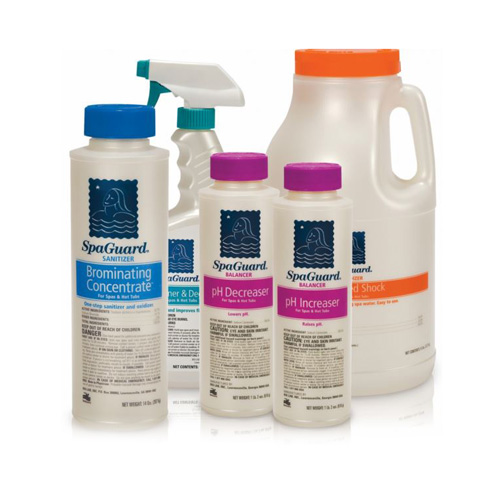 Spaguard
Spaguard products allow you to fine tune your spa water chemistry to meet the unique conditions for your tub. The product line includes:
Sanitizers – A variety of chlorine and bromine based antibacterials that are designed for varying sizes, usage levels and convenience.
Oxidizer Spa Lite contains oxidizers to remove undesirable compounds and eliminate odours and clarifiers to restore the sparkle to your spa water.
Balancers – pH balanced water is essential to water quality and the longevity of spa surfaces and equipment. The SpaGuard family includes products to allow you to easily maintain and adjust pH level.
---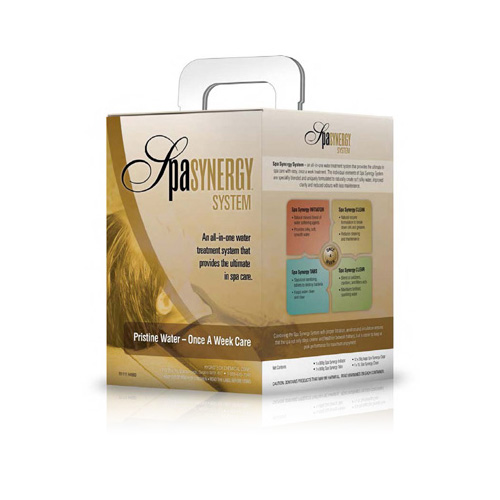 Spa Synergy
The strength of the Spa Synergy System is that it is simple and effective. The convenient kit provides you with:
Spa Synergy Initiator – A natural blend of water softening agents to provide silky water
Spa Synergy Clean – A natural enzyme to eliminate oils and greases
Spa Synergy Tabs – Stabilized sanitizing tablets to eliminate bacteria
Spa Synergy Clear – A blend of clarifying chemicals to provide clear sparkling water
People with sensitive skin have been especially pleased with the gentleness of the Spa Synergy system
---